Don't miss another deal. Be sure to sign up for text alerts You'll get access to text only specials and it's

FREE

to Join!

CLICK

HERE
FLASH SALE Ends at 1:00PM: 53% OFF Any Large Specialty Pizza - Victoria location only
Value

$16.99
Discount

53%
You Save

$8.99
The deal ended at:
01:00PM
11/05/14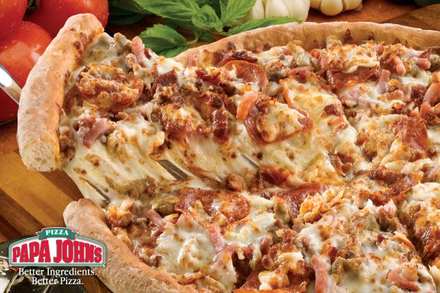 Fine print
Expires 11/30/14. You will instantly receive a unique code that allows you to redeem your order online at papajohns.com from the Victoria location. One deal per person please. When ordering at papajohns.com, be sure to log-in and select the Victoria location before using your unique code.
Highlights
Deal Ends at 1PM
Limited Vouchers Available
This deal is for Any Large Specialty pizza from Papa John's Pizza when you order online from the Victoria location. This can be used for any large specialty pizza including The Works, The Meats, Garden Fresh, Spinach Alfredo, Hawaiian BBQ Chicken, and many others to choose from.
To embed this deal, copy the code below and paste it into your website:
The Company
Papa John's Pizza in Victoria
361-575-7272
3112 N. Navarro
Victoria, TX 77901
View larger map
Papa John's is known for Better Ingredients – Better Pizza because at Papa John's they use only fresh cut vegetables, all-natural tomato sauce made from tomatoes picked during the three-month season when they're most ripe and packed within an average of six short hours, 100% mozzarella, meats that are 100% real – never any fillers, and dough made from high-protein flour and clear-filtered water.