Don't miss another deal. Be sure to sign up for text alerts You'll get access to text only specials and it's

FREE

to Join!

CLICK

HERE
Over $250 in Savings at Stephenville Restaurants & Businesses - The Virtual Coupon Book Supports SHS Metal Jackets Robotics Team
Value

$250
Discount

96%
You Save

$240
The deal ended at:
12:00AM
06/04/16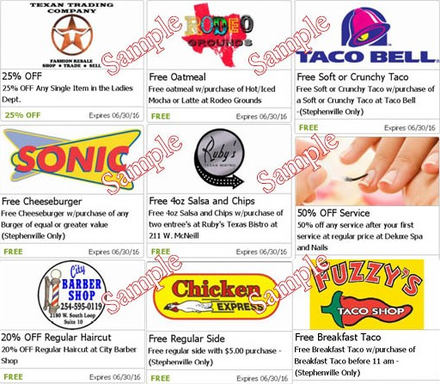 Fine print
Coupons are limted to one use per customer and are not valid with any other offer. All the coupons expire 6/30/16.
You will instantly receive an electronic voucher with instructions to have your virtual coupon book sent straight to your smart phone. Customers without a smart phone should not purchase the virtual coupon book.
Highlights
The virtual coupon book includes some of the best restaurants & businesses in Stephenville including:
Don Nicos
Chicken Express
Taco Bell
Donut Palace
Sonic
Fuzzy's Taco
Golden China
Rodeo Grounds
Golden Chick
Ruby's
The Lookout Bar & Grill
R & R

BBQ

Reynaldos
Papa John's Pizza
Soup & More
The Garden Steak House
Kyara Rane
Texan Trading Company
Design Findings Inc.
Comet Cleaners
Deluxe Spa & Nails
College Etc.
City Barber Shop
Foot Gear
Stephenville Floral
The Computer Guys
The Garden Steak House
CiCi's Pizza
Frames Etc.
Skinny Phone Repair
Wild Mimosa Boutique
Steve & Mary's Corner Deli
Auto Glass Magic
Jack in the Box
Angels & Outlaws
Head Cases
Kickin Colt Boutique
The Pizza Place and more
with combined savings of over $250 for just $10
You will receive digital coupons that can be used simply by showing your smart phone at the business and additional coupons are periodically added to your virtual coupon book as a free bonus.
50% of all proceeds are donated directly to the Stephenville High School Metal Jackets Robotics Team.
To embed this deal, copy the code below and paste it into your website:
The Company
Greg's Text
website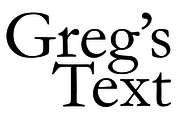 The Stephenville High School Metal Jackets Robotics Team (FRC 4364) started in 2011. The team is designed around mentors from the community, teachers, and students. Every season, the team comes together to design a robot for a specific task.
The Metal Jackets recently won first place in Team 4206's Reboot of 2015 Recycle Rush and were invited to the World Championship in St Louis. This year there goal is to compete in the 2016 First Robotics Competition.
On behalf of the Robotic Coach Steven Rains, They thank you for your support.